One of the words on the spelling bee last night was DEIPNOSOPHIST, which means "one skilled in table talk." I am not a deipnosophist. I should get that printed on a t-shirt for the remainder of BEA. Or I should just get one that says, "SOCIALLY AWKWARD, BUT HARMLESS." I will never be able to write anything other than children's books, because I get too nervous around grownups. Maybe if I'd had more of a clear purpose for being there rather than just "soakin' it all in," which I wanted to select as my badge category, I would have felt less overwhelmed.
I started my day at the Children's Book Breakfast, where I greatly enjoyed meeting my tablemates despite my distinct lack of deipnosophistry. School Library Journal summarizes the awesomeness of the breakfast better than I ever could. I'll just say I'm totally psyched that I can add "Sang with Julie Andrews" to my resume.
After breakfast, I spent thirty minutes or so being TOTALLY lost and trying equally hard to a) figure out where I was, b) find the right escalator to get where I wanted to go, and c) avoid looking totally lost. Eventually I found my way to the Autographing Area where I was lucky enough to snag ARCs of Shelf Discovery by Lizzie Skurnick and Lit by Mary Karr.
Oh, look at the time. I have to go be awkward at the BEA Tweetup.  But there's more to come!  Remember this girl from American Idol?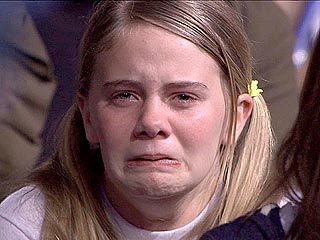 That was me this afternoon, meeting Baby-Sitters Club author Ann M. Martin. Except not as endearing, because I am old and don't have pigtails.